Come to visit ALLISCOM at CTIA 2016 September 7-9 at Booth #5739
2016-08-05
August 5th 2016 – ALLISCOM is going to participate in upcoming CTIA 2016 in Las Vegas on September 7-9.
Now, just simple steps to register your free pass with our code 5811 in the below link and it will save you US$195.
https://ctia.itnint.com/2016/RegOnline/CreateAccount.aspx?stream=hallpass&sourceCode=5811&promo=5811
Reminder: Customers must redeem free pass by August 9, 2016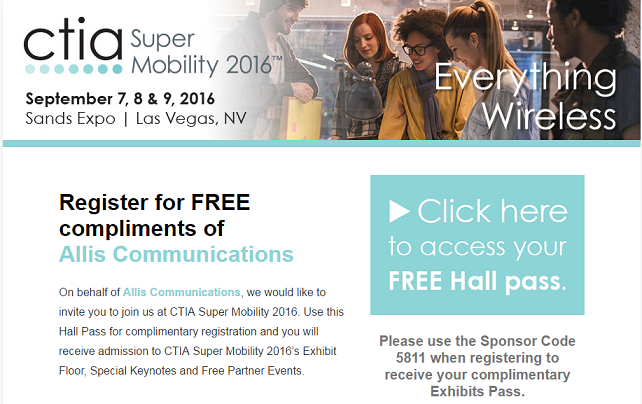 Please feel free to contact with our sales at sales@alliswireless.com if you may require assistance to register your free pass.
The M2M Product & Solution is available for purchase from ALLISCOM by contacting sales@alliswireless.com.


More Exhibits