ALLISCOM registers full range of GPS-Iridium or Iridium Antenna into Iridium website (www.iridium.com)
2015-11-06
November 6th 2015 – ALLISCOM (www.alliswireless.com) is one of leading satellite & wireless antennas manufacturers in Taiwan launched four models of GPS-Iridium or Iridium ONLY external antennas for maritime, aeronautical, government/defense, public safety, utilities, oil/gas, mining, forestry, and transportation applications using the Iridium™ Satellite constellation.
There are four (4) types of GPS-Iridium or Iridium antennas have been certified and registered into Iridium Website and please feel free to download the Iridium's Certification Letter from our Download Center.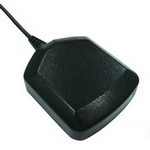 The CMIDM and MPIDM are high performance and quality antenna for Iridium only. A low profile passive antenna guarantees continuous signal coverage for excellent operation. The two type of antenna allow easy installation.




The GCRGI is a high performance and quality antenna for not only Iridium satellite phone communications but also GPS position. These active L1 GPS and Iridium antenna are designed to provide excellent coverage in the 1616MHz to 1626.5MHz and L1 GPS 1575.42MHz. GCRGI is the best choice for GPS and Iridium because it is the smallest dimension external antenna with high gain performance for two satellite systems.


The AM460 is a 6-in-1 MIMO antenna which supports Iridium, GPS, Cellular/LTE and WiFi 802.11 a/b/g/n/ac. This antenna is designed for M2M applications such as transportation, remote monitoring, telematic and maritime that requires reliable, robust and sustain in harsh environment.

The GPS-Iridium antenna is available for purchase from ALLISCOM by contacting sales@alliswireless.com
For more information please visit to ALLISCOM's website www.alliswireless.com
More news